Oh, what to watch—or stream as the case may be—when there are approximately one zillion options these days? Here are my fall favorites from Netflix, Amazon Prime, Hulu and Network TV:
KIM'S CONVENIENCE (Netflix) – Such a fun find! A Canadian sitcom about the Kim family who run a corner convenience store in Toronto. The story centers around the generational clash between the parents (with charming accents) and their first generation kids—Janet, college art student, and older son Jung who's on the outs with his father. A fun cast of supporting characters rounds out this light and refreshing sitcom.
ATYPICAL (Netflix) – A dramady about a Sam Gardner (Keir Gilchrist), a high-school boy on the autism spectrum, and his family that must cope with Sam's issues and their own. Shows are around 30 minutes each and very bingeable, with just eight episodes in season one and ten episodes in season two.
CRAZY EX GIRLFRIEND (Netflix) - How have I lived the last three years not knowing about this show? A quirky comedy WITH musical theater-style musical numbers? That's the perfect formula for me. Episode one introduces Rebecca Bunch (Rachel Bloom), a wackadoodle who has managed to achieve academic and career success even though she lapses into musical numbers under times of stress and excitement. After bumping into her former boyfriend from camp, she becomes instantly infatuated to the point of quitting her job as a high-powered real estate attorney in NYC and moving to his town of West Covina, California. The show is now in its 4th season on The CW, and the first three seasons are currently available on Netflix.
THE GOOD COP (Netflix) – Oh, how I miss MONK, my idea of the perfect cop show—low on violence, high on quirky character development. And now Monk's creator (Andy Breckman) has come up with a new cop-comedy-drama about a clean cut by-the-book NYPD lieutenant (Josh Groban) and his corrupt ex-cop father (Tony Danza). Like Monk, the crimes are not terribly gruesome and Groban's character is very likable. Unlike Monk, the main character does not come with a host of delightful neuroses.
WORTH IT (Amazon Prime) – In each tightly edited episode, around 8-15 minutes in length, two millennials, Steven and Andrew, along with camera man Adam, try the same dish at three different price points to determine which one is "worth it." Their youthful banter and enthusiasm makes me feel like I'm on the journey with them, delighting in their experience of trying new things. My favorite part is when they taste the expensive, luxury dish. This is when the orchestral music starts and the video plays in slow motion so we can observe their reaction of surprise, delight, awe and wonder as they taste things like white truffle topped pasta, a gold-crusted donut or a $777 burger. Which dish is worth it? You'll have to watch to find out...
FOREVER (Amazon Prime) – Rummaging through shows on Amazon or Netflix, I picked this one because of the title image featuring Fred Armisen and Maya Rudolph in front of a b&w suburban backdrop. Two dynamic, talented actors in one series? Yes, I'll give it a go. The show is about a couple who decides to spice up the routine of their marriage by going on a ski trip. After that, I can't say because I don't want to give away the surprising plot line. MONK (Amazon Prime) – See "The Good Cop," above. Thank you, Amazon Prime, for bringing Monk back to us. These episodes are old-friends, keeping me company in the kitchen, and making cooking and clean-up more enjoyable.
THE GOLDEN GIRLS (Amazon Prime) – Speaking of old friends… Again, thank you, Amazon Prime, for making seven seasons of The Golden Girls available any time I need to spend quality time with Dorothy, Blanche, Rose and Sophia.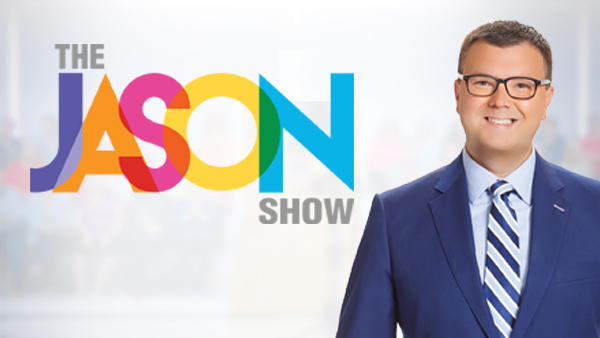 THE JASON SHOW (Hulu) – In a media landscape occupied by controversy and venomous reporting, I have found a safe haven in The Jason Show. A daily talk-entertainment show out of Minnesota, this low-budget production found its way to Hulu. The host, Jason Matheson, covers pop culture topics as well as the entertainment scene around the Twin Cities. I love the campiness of the set, the tiny audience and Jason's bubbly personality.
YOUNG SHELDON (CBS) – Chris and I both love this SO MUCH. Brilliant casting, well-written, smart, funny, touching. A perfect sitcom.
THE BIG BANG THEORY (CBS) – Like the rest of America, I just can't get enough of this series. I'm sad this is the last season.
DANCING WITH THE STARS (ABC) – A habit I can't seem to give up. I like it all: the good dancing, the bad dancing, the costumes, the band, the judges, the pros, the amazing production and finally, the "stars."
SURVIVOR (CBS) – New to this franchise, this is my second season. This is one show I like watch on the big living room TV to take in the extraordinary beauty of the filming location, Fiji.
THE GOOD PLACE (NBC) – I do love me a quirky sitcom, and The Good Place ranks right up there with other all-time favorites like PUSHING DAISIES (ABC 2007-2009, now streaming on Amazon Prime), SCHITT'S CREEK (POP TV, seasons 1-4 now streaming on Netflix) and WONDERFALLS (Fox 2004, DVD available on Amazon.com). THE GREAT BRITISH BAKING SHOW (PBS) – I'm behind on the latest series, so when in need of gentle television, I've been plucking away at episodes on my DVR. Seasons 1-5 are currently streaming on Netflix.